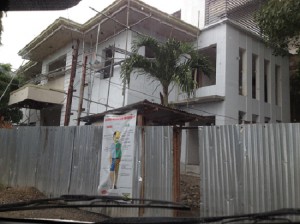 Construction of  Santo Niño Clinic is nearing completion. This two-story clinic will provide medical and surgical treatment for the poor in Cebu City, Philippines. Built to modern medical   standards, students and interns from medical, nursing and other professional training programs will work with seasoned professionals to provide up-to-date care for their patients at Santo Niño.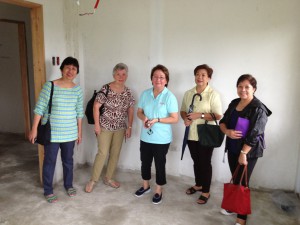 Dr. Lucie Gamboa is pictured here with friends, Carmen, Betsy, Christine and Gloria inside one of the new clinic's rooms. With help from friends around the world, the finishing work will all be completed in time for the planned opening of the clinic at Easter, 2014. Final fund-raising is underway at this time to purchase supplies and complete construction.
Mail your tax deductible contribution (in US dollars) to the Missionaries of the Poor in Atlanta, GA. Label it "Philippine Clinic" and they'll see that the money comes directly to St. Joe's Buddies for construction of the clinic!
MISSIONARIES OF THE POOR USA
P O Box 29893
Atlanta, GA 30359
(404) 248-1197
"Whatsoever you did to the least of these my brothers, you did it unto me" Matt. 25:40